Slingo Rainbow Riches Slot Game Review

Irish Slingo Rainbow takes you on a journey to find a pot of gold at the end of rainbow. But the likelihood you'll ever find one is close to zero if you don't encounter a leprechaun.
But that's about to change thanks to Slingo Rainbow Riches slot, a fantastic online game that bridges the gap between the mythical and reality. Jump in, head to Ireland, befriend a leprechaun, and discover where the hallowed treasures lie!
So here it is, the Slingo Rainbow Riches slot machine review.
What is Slingo Rainbow Riches online slot?
Irish most popular fable regales us with the story of a leprechaun sitting on tip of a gold pot at the end of a rainbow. But the gist of it is the age-old belief that Leprechauns keep moving rainbows. That's why you may find the rainbows end. Now you know!
Luck befalls anyone who's able to find the hat donning leprechaun. Though he may show you the pot of gold, he may beguile you and turn into a cat or something else then vanish leaving you high and dry. Here's a little secret; befriend him and he'll help you find the treasures.
At the thrilling Slingo Rainbow Riches casino game – you won't have to put up with leprechauns shapeshitting or disappearing tricks. He's ever a present guide to lead you to the pot of gold. Blending the suspense of bingo and the urgency of online slots, this game is as spellbinding as it is entertaining.
In this five-reeled online slot, you will find a number of mini-games, free spins, and different bonus rounds. The autoplay feature will help you beat the monotony of hitting spin button. At the background, green rolling hills and a Celtic tune keeps you on the quest to find the pot of gold. This slot game is packed with some popular features of the original Rainbow Riches and wonderful extras for quick gaming.
When playing this online slot, your mission is to mark off numbers in a single row pretty much as you would in a Bingo game. However, the Slingo Rainbow Riches game has the casino twist. You won't have to pull balls from a spinner; you just have to draw a couple of numbers from the slot. And these are used to smart spots across the board.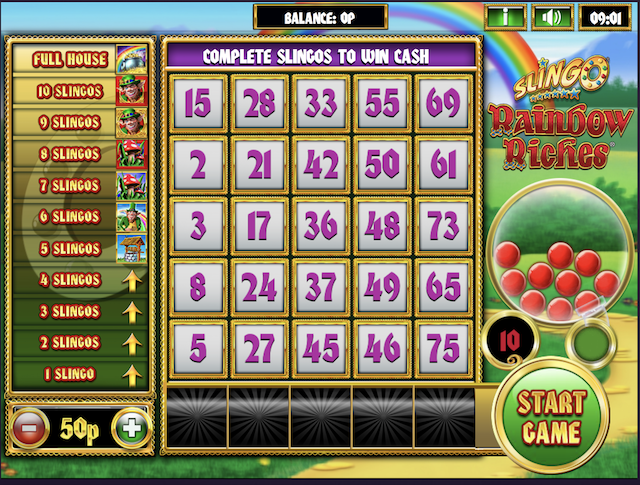 How to Play Slingo Rainbow Riches Slots
It's easy to play Slingo Rainbow Riches online. And you can do so on your mobile phone or desktop. Start with the demo to get a feel of the board and see how thing work. With every spin, your confidence will grow before play the real game.
This online game combines slots and bingo in a 5×5 grid with 25 numbers. At the start, you have to make a bet. The payout depends on the number of Slingos or lines you complete at the close of the game. The number of lines represents a different bonus game, with each awarding a unique payout.
Slingo Rainbow Riches Slot Review
Each game starts with ten spins, though you can win more spins and even get free bonus spins as the games progresses. When you exhaust the initial spins, you can order and pay for additional spins then click the "End game" button to restart the game. RTP is 95.60%.
Slingo Rainbow Riches slot machine comes with one spinning reel, which is atypical of other slot games online. When spinned, the movable reel determines and marks off the line of winning numbers from the Slingo board. Individual numbers appear pretty much like they do when they're selected in a Bingo game.
When you match at least 5 Slingos from the board, you will be rewarded with a bonus game, which also determines the amount you're paid based on multipliers. You will get more rewards if you are able to collect more Slingos in the game. To get a bonus game, fill the whole board with results.
Discover the Slingo Rainbow Riches Slot Game Characters
Slingo Rainbow Riches slots UK is one of the online slot games which feature fancy characters and animes. When the game loads, you're welcomed by a pipe-smoking leprechaun sitting on a rock while smoking playing a Celtic tune on a fiddle. Queer as they are, characters are dead-set on finding the end of the rainbow and grabbing the pot of gold.
As well as featuring the leprechaun on the home screen, the Slingo Rainbow Riches slot casino has colourful artwork that includes mushrooms, wells, rainbows, and other jolly leprechauns donning green outfits and hats. Some leprechauns also appear on wild bonus cards, enabling you to select a spot on a row or any part of the board.
Woe unto you of you won't get leprechaun bonuses! A devil lurks somewhere and his aim is to lock one of the Slingo numbers you have drawn so you get 4 out of numbers.
We hope you enjoyed and benefited from our Slingo Rainbow Riches tips and you are now ready to play the game and hopefully win!
Main Features & Symbols Explained
Game Details

Slingo

No

5

12


No

Yes

No
More Slot games from Slingo