Jack Hammer Slot Game Review

Welcome to the ultimate guide and review of the Jack Hammer slot machine game: special features, the wildest wilds and how to nail that bonus round! Scroll down a bit, and you can brush up on your spinning skills!
Be a part of the action in the glamorous underworld of the crime-fighting private eye at jack hammer slots.
Follow jack hammer in to a stunning crime that hunts for the evil mastermind Evil Dr. Wüten and win major payouts!
Fight crime and win real cash at jack hammer slots…
Jack hammer is a comic strip and cartoon themed slot game developed by NetEnt, which takes you the glamorous and gritty underworld. This game gives you the potential to win large and non-progressive jackpots with sticky wins features. The game is also popularly known as Jack Hammer vs. Evil Dr. Wüten – just in case you're interested in knowing.
Play the Jack Hammer Slot Machine for Free!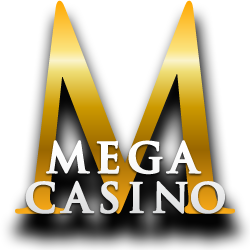 Instant Win GamesInstant Cash Payouts
About Jack Hammer
This slot is a 15 reel and 25 line game which means that you'll have 5 spinning reels to play on to create winning combinations. For each coin you place, you enable a new payline. As soon as the reels stop, the game will check for combinations of symbols on every enabled payline to calculate your total winnings.
What's more fabulous is the fact that playing the game doesn't involve any costs and you can bet with a minimum bet amount of 0.01 and a maximum of 250.00 per spin. The maximum payout in the game is 1000 credits for each pay line. For each coin you bet with, you enable a new payline and are paid for your winning combinations on these enabled lines only.
Game Details
Game Theme :
Comics,Fantasy

NetEnt

No

5

25

0.01-0.5

Yes

Yes

Yes
Paytable
In order to place a bet, click on bet lines and choose the number of lines you're interested in betting on. With each click, you add one line to your bet and this will highlight a bet line on your screen. In addition, you can select bet lines by clicking on the bet line symbols on the side of the machine. The current number of your bet lines will be displayed below the slot game buttons. In order to place the highest bet all at once, you can click on the MAX BET button.
Once you click on the spin button, you will begin the game and the amount you've betted with will be automatically deducted from your account. Clicking on the MAX BET option will allow the reels to begin spinning automatically.
Payline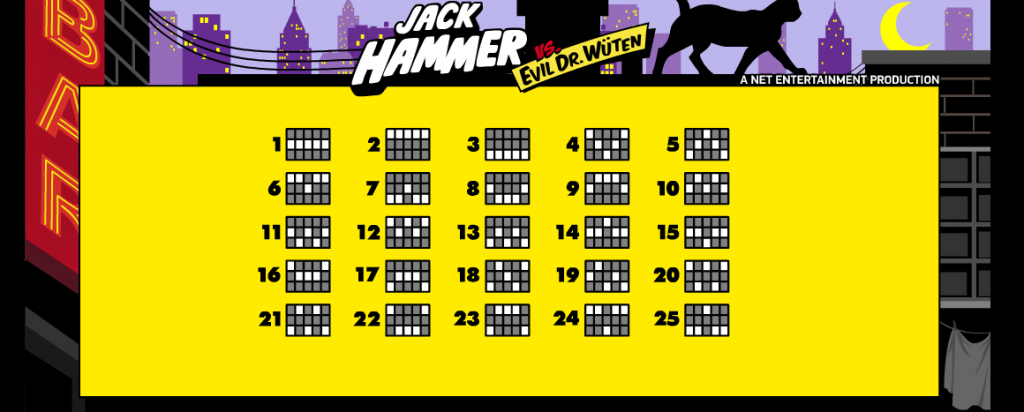 You are paid for the winning combinations you obtain on enabled paylines only, with the exception of scatter wins in which scatter symbols can occur anywhere in any position on the reels. The numbers of credits you win depend on the number of coins you are awarded with multiplied by the selected coin size.
Regular Symbols
Regular symbols in this game include Jack Hammer, Evil Dr. Wuten, Assistant, Paperboy, Airship, Jack Hammers Car, Daily Grand Newspaper, Telephone and Poison! These whimsical symbols will result in winning combinations to help you win major payouts. Winning combinations are displayed in the payout schedule of this game. Different combinations of symbols will give you a different payout, for example, a combination of three jack hammers will give you 50 coins and a combination of three assistants will give you 25 coins. Jack Hammer and the evil doctor will result in the highest paying combinations for keep a lookout for these guys – you'll need them!
Jack Hammer

You don't want to miss this guy because he will win you the highest payout. Having a screen covered in Jack Hammers will give you a massive payout of 1000 coins per line and a total payour of 25000 coins! In a free spins round, you can win up to 75000 coins!
Dr. Evil

The symbol represents the ever so famous Dr. Evil which can win you quite a lot. Each win line of five will give you 300 coins, which results in a maximum win of a whopping 7500 coins.
Assistant

Land on this lady, and you'll be seeing a nice amount of money! A screen filled with this symbol will give you 6250 coins or 250 coins per win line.
Paper Boy

The paperboy has some important news to share: if you get a full screen you'll win 1,000 coins! And 200 coins for a win line.
Airship

The airship might drop an ammount of 3,125 coins on you if you get a full screen. A win line will give you 125 coins.
Drive by Shooting

The drive by shooting symbol will give you 100 coins on a win line and 2500 coins when your screen is covered with it.
Daily Grand Newspaper

Did you read all about it? If you land a win line you'll get 75 coins. If you get a full screen you'll win 1,875 coins.
Telephone

Answer that phone because someone is trying to tell you that you could win up to 1,250 coins if you land a full screen of these. On a win line you'll win 50 coins.
Poison

It's poison for a reason but don't worry, if you land a full screen of this mysterious concoction you'll still win up to 1,000 coins or if you land a win line you'll get 40 coins.
Wild Symbols

The wild explosion symbol is the obvious wild symbol in this game, which acts as a substitute for regular game symbols in order to complete a winning combination.
Note that the wild explosion symbol will not substitute for the scatter symbol to trigger a free spin bonus round. You'll only be paid for one winning combination per payline therefore, if you have multiple winning combinations, you'll be paid out for the combination with the highest value only.
Scatter Symbols
Bomb Free Spin

The BOMB FREE SPIN symbol is the scatter symbol in this game and boy, does it feel good to run into one of these. The scatter symbol does not have to appear in line to enable a payline to form a winning combination. It can be scattered anywhere on your reels if five or more scatter symbols appear. This will activate the free spins and help you win bigger payouts.
Sticky Wins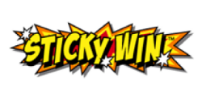 Sticky Wins Feature 3 bomb free spin scatter symbols or one winning bet line will result in the activation of the sticky wins feature.
Free Spin Bonus Round Winning up to thirty with 5, 6, 7, 8, 9 to 15 scattered bomb symbols on the reels will allow you to win 10, 15, 20, 25 or 30 free spins.
Note that the wild symbol will not substitute for a free spins symbol during this game.All winning combinations are TRIPLED and all controls are disabled during this round – this includes the payline selectors as well.
The sticky wins feature can be activated while playing the bonus round. Five or more scatter symbols will be scattered on the reels during a bonus round so you'll obtain an additional 10, 15, 20, 25 or 30 free spins! The additional spins are then added to the remainder. You can obtain an infinite number this special bonus round!
Once the round is complete, you'll return to the jack hammer slot game and the wins you were awarded will be added to your total winnings.
Let the crime fighting action begin!
Join the spectacular underworld and fight crime at the comfort of your own home and take away major payouts! The game is absolutely free and you can bet with pennies to make real cash that goes into your pocket. What's amazing about this game that it is so fun and engaging that you get hooked and keep wanting to play more!
More Slot games from NetEnt