Jack Hammer 2 Slot Game Review

Welcome to the ultimate guide to the Jack Hammer 2 Slot game: special features, the wildest wilds and how to nail that bonus round! Scroll down a bit, and you can brush up on your spinning skills
Play the Jack Hammer 2 Slot Machine for Free!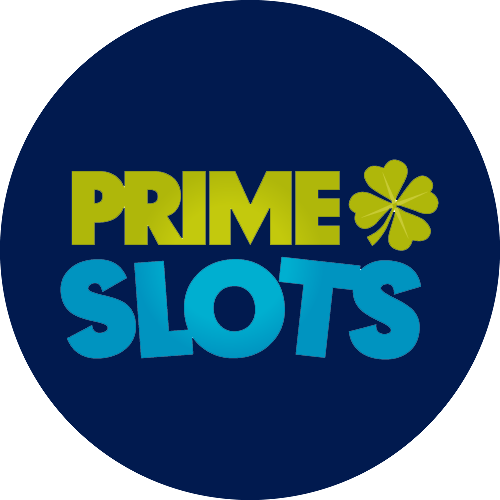 Latest Released GamesVIP Treatment
About Jack Hammer 2 Slot
Jack Hammer 2 continues the fun where the original Jack Hammer slot left off. Both are among the most popular slot games ever to be presented by NetEnt video slot producers.
Your job here is going to be to save the beautiful and luscious lounge singer from a life of misery and danger imposed by the unscrupulous Don Crabby and his cohorts. This is Fishy Business you are about to become a part of.
Your rewards for doing so may be many, but are you up for the challenge?
All slot games have an element of excitement to them, but very few hold the intrigue that Jack Hammer 2 possesses. The characters are whimsical, but still hold to the underworld theme. The music is pleasant and upbeat and adds to this online slot game's adrenalin flowing character.
Jack Hammer is the virtual hero of the story that is spun out through this slot game play, but you may just become the reality hero should you hit some of the big wins that this game has to offer.
Jack has a whole new echelon of villains to fight in Jack Hammer 2, and his job is to protect Pearl the beautiful stage singer who only wants to entertain folks from all around. The villains of the story, however, will try their best to prevent this.
So where do you come into this with all thats about to take place with each bonus and spin of the reel?
Game Details
Game Theme :
Comics,Fantasy

NetEnt

No

5

50

0.01.-0.2

Yes

Yes

Yes
Paytable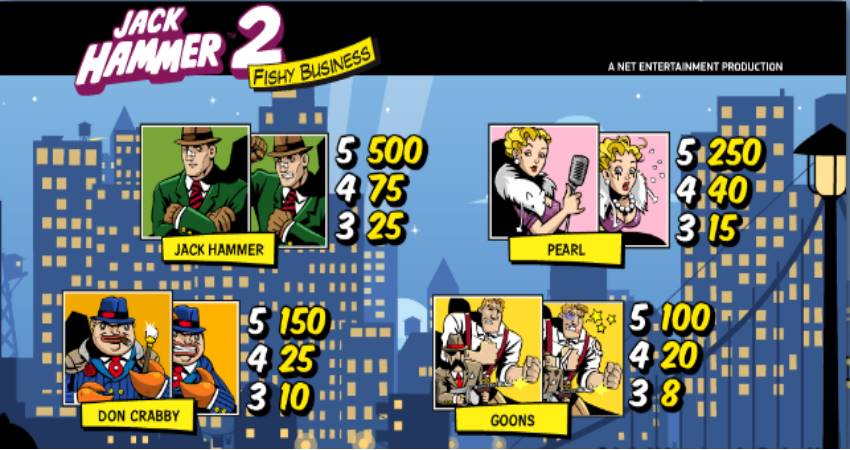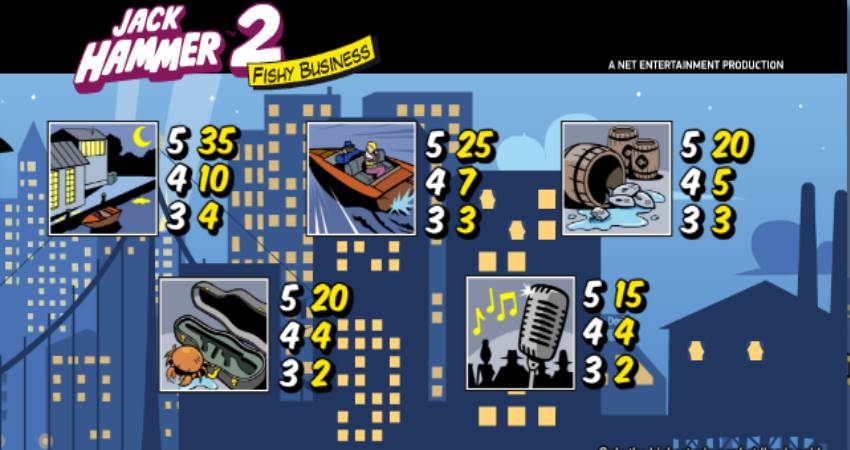 Paylines
This Jack Hammer 2 is a 5-reel 3-row slot that is comprised of 99 pay lines. Now just imagine how much money could actually end up in your pocket with 99 pay lines!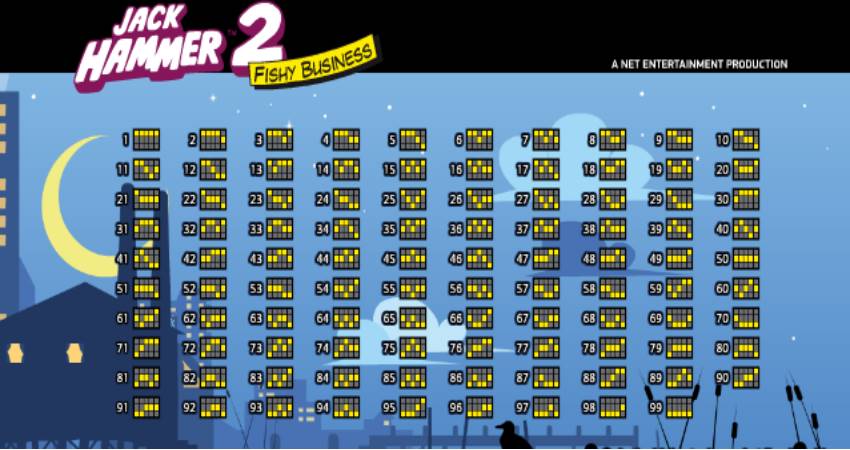 You will have the opportunity to place a maximum bet of ten coins for each line. The bet coin value ranges from 0.01 up to 0.50. So if you are going for the gusto then you max bet is going to ring in at 250 coins. If you want to start out conservatively then the minimum bet you can make is 0.50 per spin. Jack Hammer 2 offers you the possibility of hitting it big with a jackpot of 5,000 coins.
If you are the type that likes to just sit back and watch the excitement as those reels spin then you can take advantage of the Auto Play feature.
All the good stuff
Just like the original Jack Hammer this Jack Hammer 2 slot game has some fabulous features along with icons that are absolutely riveting. The theme has a whimsical feel to it as it is embellished with cartoon characters that all have a very special meaning, like you would expect with an underworld under tone.
Winning Symbols
You are definitely going to want to see these high paying characters land on your screen so they put some extra coin in your pocket. Of course Jack Hammer himself is the star of the show when it comes to paying out, but Pearl doesn't do a bad job of it either.
Jack Hammer

Jack Hammer is going to give you a 25 multiplier if you land 3 of them on a bet, 75x for 4 and 500x  for 5 of them
Pearl

Pearl will award you a 15 multiplier for 3 of her icons on a bet, 40x for 4 and 250x for 5
Don Crabby

Don will have to pay you a 10x multiplier for landing 3 of him on your bet, or 25x for 4 and a 150xfor  5.
Goons

The goons will have to cough up a 8 x multiplier for 3 on your bet, 20xfor 4 and 100x for 5
The docked boat at the pier

Land 3 of the docked boat on your bet and you will receive a multiplier of 4 for 3 of these, 10x for 4  and 35x for 5
The getaway boat

You can get away with a 3x multiplier on your bet if you turn up 3 of these on your bet, or 7x for 4 and  25x for 5
The fish barrels

These fish you won't mind landing when you get paid a 3x multiplier for 3, 5x for 4 and 20x for 5
The Shotgun case

You can round up a win of a 2x for landing 3 of these on your bet, or 4x for 4 and 20x for 5
The microphone

You will be singing a happy tune for a multiplier of 2 for 3 of these showing up for your bet, or 4x for 4, and 15x for 5
Looking for something extra special?
Then keep an eye out for the free spin multiplies and the wild symbols. The extra pizzazz that comes with this slot game is the "Sticky Wins"
Sticky Wins Feature
It was the introduction of this feature that made Jack Hammer 2 so popular.
The Sticky Win feature lets you win something with each spin that you take. It locks a winning spin into place so you can keep on taking additional spins. If with each spin you retrieve an additional win then the reel will continue to lock into place until you make a spin where no more additional wins are realized. The possibility of being able to win up to 990,000 coins in this slot allows it to boast being one of the highest paying online slots.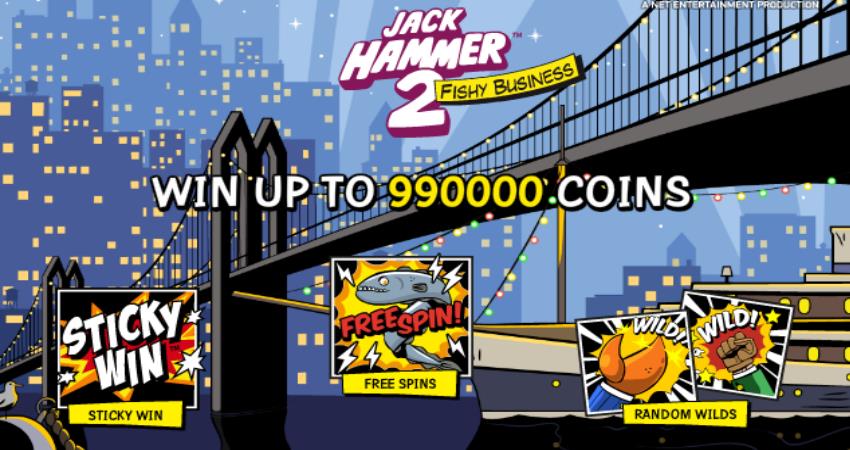 If you happen to hit on the free spin feature you can look forward to winning up to 20 free spins. Now how is that for being a potential money maker!
Wild Symbols
The actual wild symbol substitutes all the other symbols but excludes the free spin symbols. In addition there is the crab claw which is also a wild symbol, and the fist which will only be activated when you are participating in the free spin mode.
Conclusion
This game is not going to disappoint Jack Hammer enthusiasts, nor those that are new to the Jack Hammer saga.
It has all the makings of being one of those online slot games that never grow dull, nor lose their ability to draw the attention of new players with golden opportunities of some big wins.
Available on both desktops and mobile devices.
More Slot games from NetEnt