Family Guy Slot Game Review

Welcome to the ultimate guide to the Family Guy slot game review: special features, the wildest wilds and how to nail that bonus round! Scroll down a bit, and you can brush up on your spinning skills!
Join Peter, Lois, Chris, Meg, Stewie, and Brian for a laugh out loud adventure that isn't on the living room television screen. Your favorite American comedy family can now also be found in your favorite online casinos. Time to get on your mobile device and laugh out loud while earning big prizes! See what it's all about right now for free, no deposit!
Play the Family Guy Slot Machine for Free!

Warning: Invalid argument supplied for foreach() in /home/programa/public_html/wp-content/themes/twentysixteen-child/template-parts/content-single-slots.php on line 144

About Family Guy Slot
Peter Griffin and his pack are just your regular next-door neighbors – if you live in the kooky side of the strangest town! You'll definitely enjoy the crazy adventures of the Griffin clan in the form of an online slot machine! They have reached a whole new different form of entertainment, and longtime fans can rejoice when they play and earn real money!
Explore and enjoy a traditional slot that still has loads of thrills to excite all types of players. It also adds a great chance to earn big no matter the bet, due to its fairly generous bonuses and progressive winnings feature. The game is given more depth by integrating the relatable cast of characters into the game. Whether you are a dad, mom, brother, sister, baby, or dog, you will find a way to enjoy the video clips and amazing animations included within the game.
Shows based on TV shows love to capitalize on the fame of the characters they feature. However, Peter Griffin doesn't sell you short and provides entertainment on both sides of the game's spectrum. This game is good for both beginners and advanced players. Solid fun is accompanied by a solid chance to really earn big.
Game Details
Game Theme :
TV Show/Movie

IGT(WagerWorks)

No

5

30

1-50

Yes

Yes

Yes
Paytable and Symbols
Peter, Lois, Chris, Meg, Stewie, and Brian are the complete cast among the spinning reels. Our Wild Symbol is the beloved breadwinner, Peter. The other members of the family also feature in the game prominently. They are all important members and thus you will need to rely on all of them to be able to hit the huge jackpot!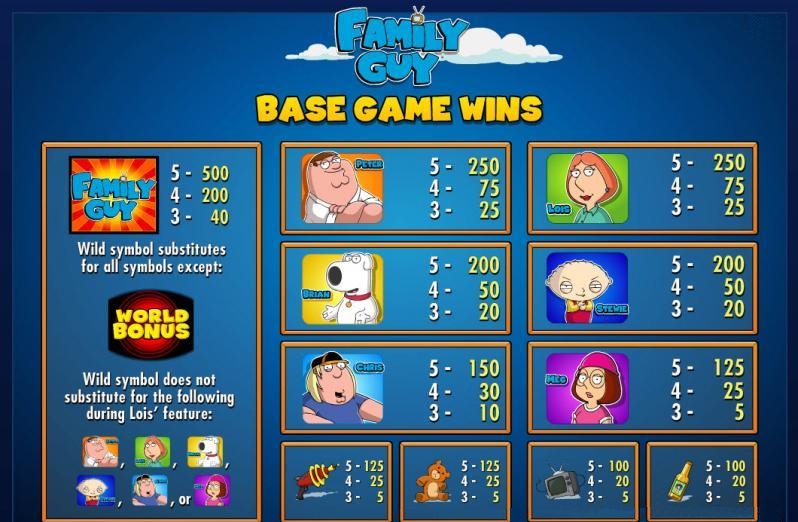 Payline
The game features 3 rows and 5 reels. Watch your favorite character spin among the crazy cast for winning combinations!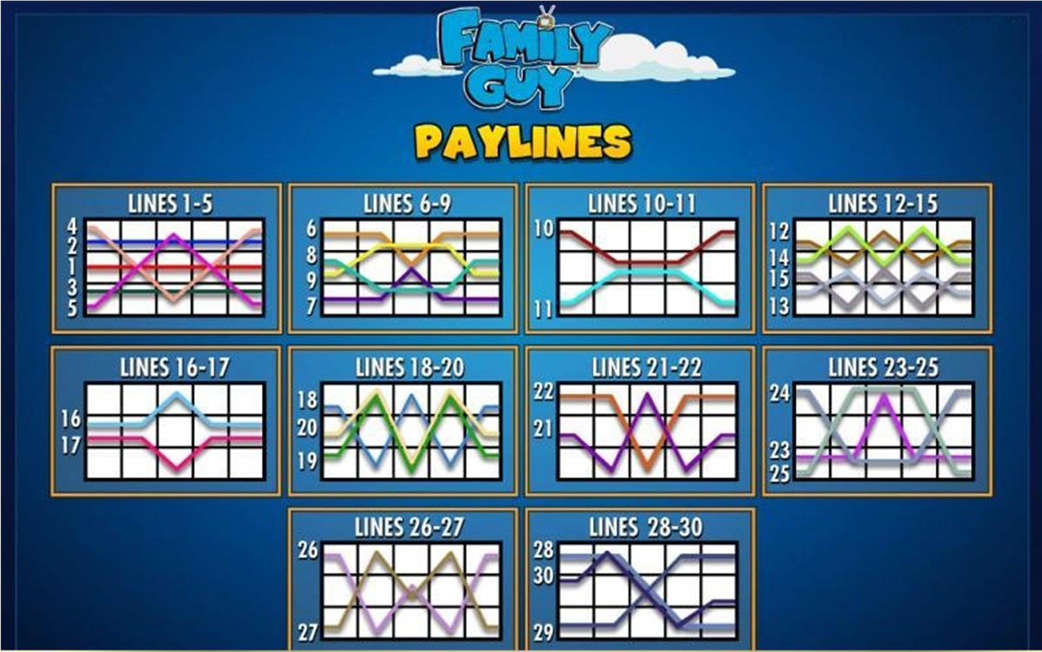 As a classic slot, there are 6 levels represented by the 6 quirky members of the Griffin household (yes, even their smart aleck dog, Brian), giving us massive multipliers and big winnings. A one hundred thousand prize is difficult to beat, so why not take your chances and have a good laugh or two while you're at it?
Bonus Features
Family Guy slots game takes a traditional game and combines it with a comedy we all know and love. Three bonus features are added to this very generous game. This means that you don't have to be a fan of this comedy family to enjoy the winnings and coins virtually falling into your lap!  Who knows – you might find that you have a new show to watch right after you play!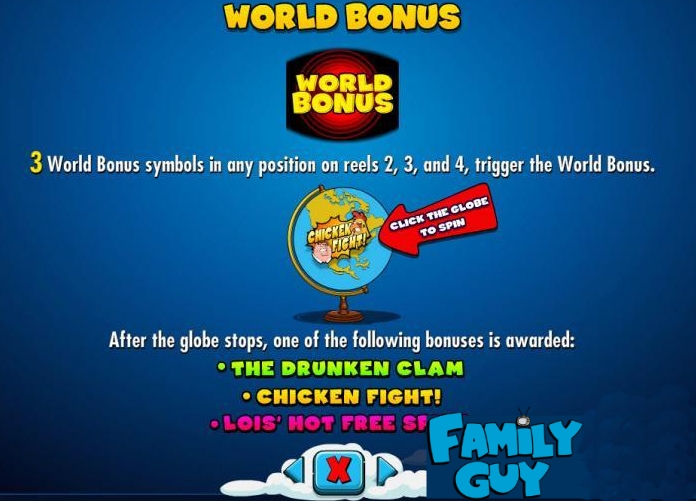 There are times where the game just hands out credits as rewards on certain intervals. This penny-slots game has so many features that playing it can feel like a whole new kind of experience.
The head of the family has his own bonus round. Peter is known to tick off players with his erratic nature, but you as the player can take this chance to earn more. This time, it features his bitter nemesis, the Giant Chicken. When you get the Giant Chicken symbol enough times, then you will have the chance to face off with the big enemy as well! All it takes is 3 rounds to win credits with massive multipliers.
The raunchy side of comedy is seen in the Lois bonus round. When you get enough sexy Peter symbols, you will have the chance to witness the silly, sultry side of Peter. That's quite rare in a slots game but it takes a cheeky comedy to pull it off!
The last bonus round features the devious baby Stewie. Fans of the series know his destructive tendencies and desire for the world to be destroyed. Help him get the chance to do just that! His presence as a symbol brings about the destruction of different parts of the world using a handy-dandy laser gun. We don't know how a baby got his hands on such a weapon, but it will add to your winnings, either way!
All Around Family Fortune with the Griffins!
Family Guy is a comedy for the whole family and it definitely delivers cheeky and laugh out loud moments that most people would enjoy. If you're in for a funny slots game that will entertain you with laughs, cash and thrills, then this is the game for you! IGT's efforts into making a truly enjoyable game has paid off, with the help of the charming and funny Griffin kin!
More Slot games from IGT(WagerWorks)