Egyptian Magic Slot Game Review

Welcome to the ultimate guide to the Egyptian Magic slot game: special features, the wildest wilds and how to nail that bonus round! Scroll down a bit, and you can brush up on your spinning skills!
Travel back in time to ancient Egypt – the spectacular world of Pharaohs, ankhs, scarabs, pyramids, golden treasure and sphinx.
Win incredible payouts at Egyptian magic slots worth a Pharaoh's ransom!
Egyptian magic slot game is a NeoGames original which takes you back to the age of forgotten Egypt which included pharaohs, magic, and heaps of gold. The game comes with great graphics and is so mesmerizing that you'll get hooked and what's better is that you'll get rewarded if you're lucky enough throughout your journey.
Play the Egyptian Magic Slot Machine for Free!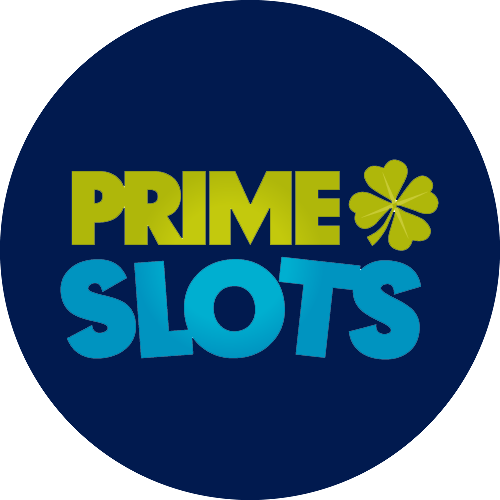 Latest Released GamesVIP Treatment
About Egyptian Magic Slot
This slot game involves archaic symbols of cats, ankhs, busts of royal queens, sphinx, pharaohs and other items you'll find typically in Egyptian royal burials. The graphics are absolutely stunning and are comfortable to the eyes with smooth animation giving you an exceptional gaming experience you'll never forget.
The controls in this game are simple and the game provides detailed instructions that even a child can understand. The game includes wild symbols that can double your winnings – trust us, this is something you do not want to miss! In addition, two or more scatter symbols are eye candy in this game, they'll brighten up your day and help you win some serious money – especially, if you manage to obtain all five symbols on one payline.
This game is free and you can bet with an amount as low as a dollar to $10. The prize is well worth the tiny investment as you can earn up to $100,000 in this game – this is definitely not something you should overlook. Aim for the sky and you'll be dancing with the pharaohs in no time!
Game Details
Game Theme :
Adventure,Historical

NeoGames

No

5

9

0.01-10

Yes

Yes

Yes
Paytable
The slot is simple to operate and configure – you just need to set the coin and lines options before you're ready to play. You can use up to 9 lines and will require only one coin for each line. The coins can range anywhere from 0.1- to $10 making up total bets of 0.10 to $90. Anybody can find a value that is suitable for their wallet.
Payline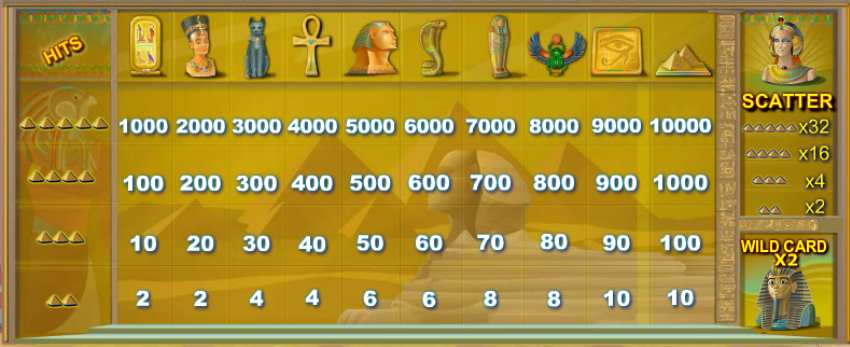 Wild symbol

The Sphinx is the WILD symbol in this game as it can substitute for all other symbols on screen and complete a winning combination. This will increase your chances of winning more cash, making you a  much happier person. Note that the WILD symbol will not substitute for the scatter symbol in this game to trigger a free spins round.
Scatter symbol

The scatter symbol can help you multiply your stake by 32 when you land 2 or more scatter symbols. Get 5 scatter symbols at once and you can win even larger payouts. Keep playing and you'll be surprised at how much you'll end up with at the end of the game. And the good news is that this amazing game only requires a minimum of 10 cents per reel to initiate your game!
Jackpots
The maximum jackpot you can win works out to 10,000x times the amount you have betted with per line. Therefore, you can win from anywhere between $1000 to $100,000 – which is an amount that shouldn't be taken lightly.
Although there aren't any bonus rounds in this game, there is a Wild symbol and a scatter symbol that are worth keeping a look out for because these two can help you win some major payouts – more on this later.
Immerse into the pharaoh's tomb
This game is filled with ancient Egyptian artifacts and statues on the reels and the side. The line markers are modified to resemble pyramids as well. This game is truly sophisticated and is fashioned to meet anyone's graphic needs.
The game is filled with a wide range of icons so watch out for them on the reels. The pyramids, pharaohs, sphinx, gold bars, ankhs, scarab beetles, birds and many more can create winning combinations that can give you real cash.
Egyptian magic has a five reel slot that can be relied on as it stays true to the game with two powerful slot features. The game gives you free spins, quite a nice range of prices and can pay you up to $100,000 – for real! It's a game that any person can play but gives payouts fit for a king!
More Slot games from NeoGames