Betty Boop Slot Game Review

Welcome to the ultimate guide to the Betty Boop slot game review: special features, the wildest wilds and how to nail that bonus round! Scroll down a bit, and you can brush up on your spinning skills!
This vintage bombshell brings more than just va-va-voom to the table – she is also lady luck! Play the Betty Boop video slot machine and hopefully after you read this review, this sassy woman will help you as you climb your way to the top winnings!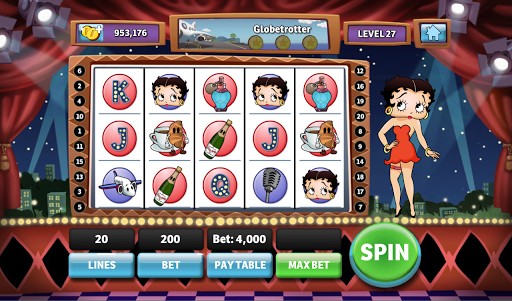 About Betty Boop Online Slot Machine
One of the animation world's first and finest sex symbols finally makes it to the casino's shores as an amazing slot by software developer Bally Technologies. They have previously tried their hand at other Betty Boop ventures and it looks like she is still as big a hit as she was back in the day, because their Boop portfolio is just growing!
The hit rate is 45.55%. Some people just love the thrill and the risk of playing and when this excitement is topped off with the passionate Miss Betty, things just take off with loads of energy! It's a very popular video game that earns lots of plays. It even employs a bet limit of 300 coins just in case anyone gets too carried away. If you love slots and the lights of the casino scene, then you're in for a treat and hopefully some cash prizes!
This Betty Boop Slot is also one of the Bally Technologies games that use iDECK, which is a touch interface feature—creating much more interactivity between the player and cute, little Betty. Don't you want to play more immersive games? It's a good thing that this charming slot about a classic character is outfitted with such a modern take on casino games!
Game Details
Game Type :
Progressive slots

Ludia Inc.

No

5

40

1-300

No

No

No
Paytable and Symbols
This slots game is rather straightforward in its presentation. The usual lower level symbols of 9, 10, J, Q, K are mainstays of all classic casino games. Included are romantic hearts and blood red bouquets as well – very apt for the iconic Betty Boop and her signature slinky red dress! There are also Wild Symbols present in the game as well.
Paylines
The Betty Boop online slot machine features 40 pay lines and 5 reels. It is a progressive game and the incremental jackpot is sure to keep you playing and playing. There is also a mountain of bonus features inspired by the lovely titular character and some of the most innovative ones in the slots industry as well.
The amazing design is hard to say no to, but it only gets tougher to tear yourself away once you find out the jackpot—psst, it's a whopping million dollars! Not bad at all!
Bonus Features
The bonus features have Betty Boop's name and connected imagery integrated into them. She is a feminine icon so this should be no surprise!
The Love Meter is the number one noticeable thing that sets this game apart from the other games lined up beside it. With the innovations and designs today, it's so hard to make a slots game that stands out and outshines the rest, but the makers of this Betty Boop slot pulled out all stops to make sure all eyes are on the lovely lady!
The purpose of this large meter is to keep track of how far you've made it into Betty's heart! We hope you manage to fill it up!
Betty's Heart is all about luck involving 3 containers. Anyone lucky enough will manage to snag credits when they see that they got Betty's Heart.
Light Up Betty's Life is similar in concept to the Heart mini-game, in that the player gets their pick of the litter. In this bonus, it's light bulbs. For every correct light bulb you pick, a meter goes on and on until the end of the round, and you are rewarded the corresponding credits according to your win.
How Hot Are You? Betty Boop wants to know – and give you credits just for it! The game will simulate if you will be Romantic, Lovable, Wild, Sexy, Mischievous, Smoking, Burning, or Passionate! You might be all of that in real life, but here you'll have a chance to win one title and get the corresponding amount of credits for it!
Free Spins For All
Just like in traditional slots, you also have the chance to win free spins. Anywhere between 1 and 15 games can be won, in multiples of 5. Let's hope lady luck is also on your side because hitting 10 or 15 free games also entitles you to a multiplier bonus. Imagine that, a prize on top of a prize!
Bally Technologies really endeavored to give the iconic Betty Boop a legacy, even in the casino! With over the top, rewarding features and a design that is as beautiful as the character being paid homage to, players are immediately drawn to it and immediately fall in love as well.
Bring Back the Lucky Old School Flare with Betty Boop!
Today's popular culture is filled with characters and icons so wide and diverse. Sometimes it's a great feeling just to step back and remember the good old days of television – the Betty Boop online slot proves just that.
With a chance to win big as well, who could say no to those big, beautiful eyes?
More Slot games from Ludia Inc.