Astrodice Slot Game Review

Welcome to the ultimate guide to the Astrodice slot game: special features, the wildest wilds and how to nail that bonus round! Scroll down a bit, and you can brush up on your spinning skills!
Slots and dice come together for an adventure that's out of this world.
Watch the dice glow bright as you earn big winnings!
Play slots to see the dice go round and round, and win the chance to play the Lucky Landing Free Spins Rock and Roll game for extra winnings.
About Astrodice
Astrodice features bright, glowing dice, zipping through outer space to deliver great winnings to you. It is an online casino game that entices slot fans to take a spin on a different plane, out of this world. The game is simple and friendly enough for beginners to step up to the launching pad. Minimum bets of 0.20 is friendly, but goes up to the maximum 200 coins for more adrenaline rush-inducing gaming!
NeoGames's Astrodice is a Video Slot game that helps you earn big, inspired by the stars in space and the excitement of a dice game. The company is known for their exhilarating games, and Astrodice delivers the same experience in a fun, cosmic setting.
The exciting movement of the 10 regular and 3 special dice remind players of bright stars, except this time, they are even luckier because of the opportunity to win real money online. 5 reels and 20 pay lines deliver big bucks and big fun.
If you aren't satisfied with regular online slot games, try the best outer space themed slot game that has a lot of features to offer. You're not just pressing the SPIN button, you're also strategizing over your winnings.
Features include the Lucky Landing game. The astrodice space ships are trying to make it safely – and profitably – to land. Hope for yours to land on a high number.
The Bonus Rock and Roll Game is an extraterrestrial hide and seek opportunity to earn extra cash. Prizes and satellites that act as multipliers are within bright dice, all asking you to click them. Pick the right ones!
Astrodice combines the classic, fun play style of online slots, plus highly attractive and exciting visuals and sounds to keep you spinning to your heart's content. With a 93% player return ratio, you can blast off into this immersive game.
Game Details
Game Type :
Game Type,Video Slots

NeoGames

No

5

20

0.01-400

Yes

Yes

Yes
Paytable
Open the in-game paytable to be able to study which are the optimal combinations for this exciting game.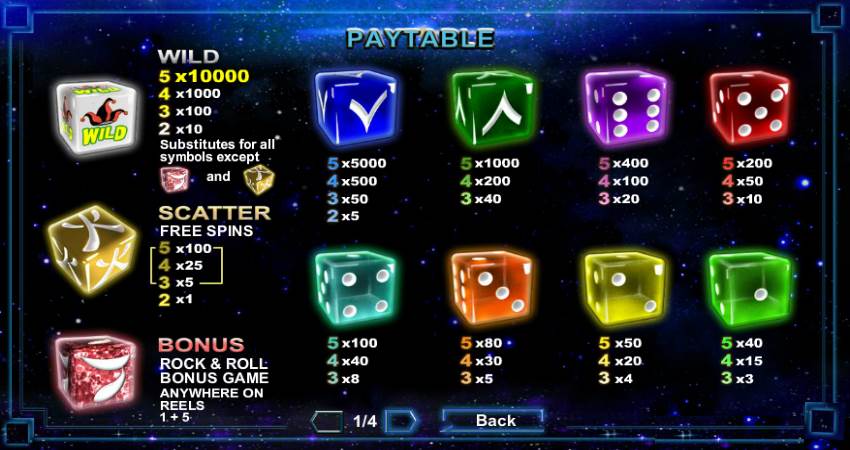 Payline
Straightforward and fancy playlines are reminiscent of outer-space themed old school video games – more than enough to remind you of the wonderfully youthful theme. 5 reels on 20 paylines gives great chances of decent returns.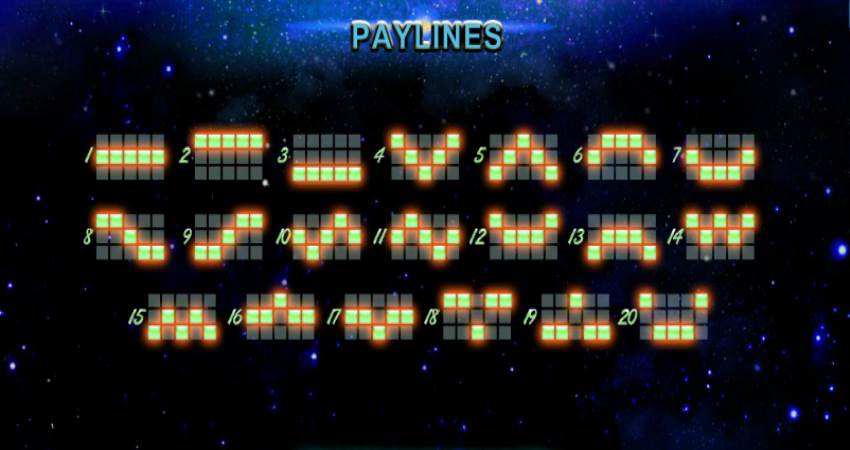 The Gold Huǒ Dice
A special golden huǒ die, the Chinese character for fire, is a bonus scatter symbol. Get an exponential return of free spins. Get pumped with the exciting minigame as you root for your astrodice to safely pick the highest return landing pad!
The Red Bonus Dice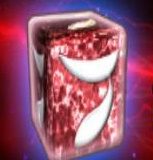 Hot like a glowing meteor, the red dice brings in the Rock and Rolls Bonus Game once it lands on the first and fifth reel. This stage lets you pick any astrodice floating in space to reveal cash prizes and multipliers that pay out bigtime. If you want to take a break from all the spinning and want a unique and profitable online casino game experience, this minigame will be a treat.
The WILD Dice

Hope for this combination saving WILD symbol to pump up your winnings astronomically! The WILD joker hat dice can substitute for any regular number dice (that is, anything except the gold scatter and red dice).
Playing on these outer space slots is easy and fun. All you need is a great winning combination somewhere over the 20 paylines. Just three matching dices is enough to win – but you are surely itching for more. And you don't need to worry. There is a lot of opportunity to win money and play to satisfaction.
Just remember that you need three of the golden dices to trigger the landing minigame and hope for
30 free spins. Don't be surprised when one reel is In hyperspeed – an element of surprise for the end result. The Rock & Roll bonus is rare, but very much worth it. It is still up to you to wait around for it, but the fun you will have on the regular game is also a real treat.
Astronomical Winnings for the Adventurous Player
Want to maximize your celestial winnings? Put on the maximum 20 paylines and the maximum $200 bet. Aim to get to the Lucky Landing Free Spins and Rock and Roll minigames for a high chance to carry through bigger winnings. Any combination and result from the two minigames will help in the main game. Play for the 30 free spins. The 10,000x jackpot prize is waiting to be won within the game. It is not a progressive winnings game, but it provides great opportunities to win big. A simple, fun, and beginner-friendly slot game with top tier aesthetics can get you into the slot real quick.
More Slot games from NeoGames