by Richard Miller
Those of us old enough to remember the time an IBM computer won at Jeopardy, or Deep Blue beating Kasparov at chess, can probably recall the sense of wonder, and subtle dread, that washed over our collective consciousness. Well, brace yourselves – it's time to start preparing for the next wave of computer-dominance.
The speed of the ball, the heart-rate of the athletes, every gush of wind – all these and more will change the nature of sports betting forever.
This is what the future of sports betting will probably look like:  
Almost all sports betting will take place online. More than that, bettors will use their phones to place bets – in real time.
The dominant bettors won't be human – they'll be robots, betting on behalf of humans; they'll be fast, powerful and driven by massive amounts of data. 
Large tech companies will emerge as mega bookmakers. 
Sports leagues will profit directly off of legal sports betting. 
The U.S. online sports betting market – post-legalization – will be the largest in the world and its establishment will energize the entire global market of sports betting.
How Will We Get There?
AlI bots are now able to beat human poker players handily; an algorithm called Libratus trounced a team of professionals in late 2016. Those who understand the complexities of poker, know that when a machine can read, learn, strategize and win in a game of bluffs and uncertainties – a new era has begun.
The changing landscape of sports betting isn't far behind; it's about digitization and the move of the industry to the online realm. Tech and media companies like Google and Microsoft are carefully following the laws regarding online gambling and are preparing to pounce.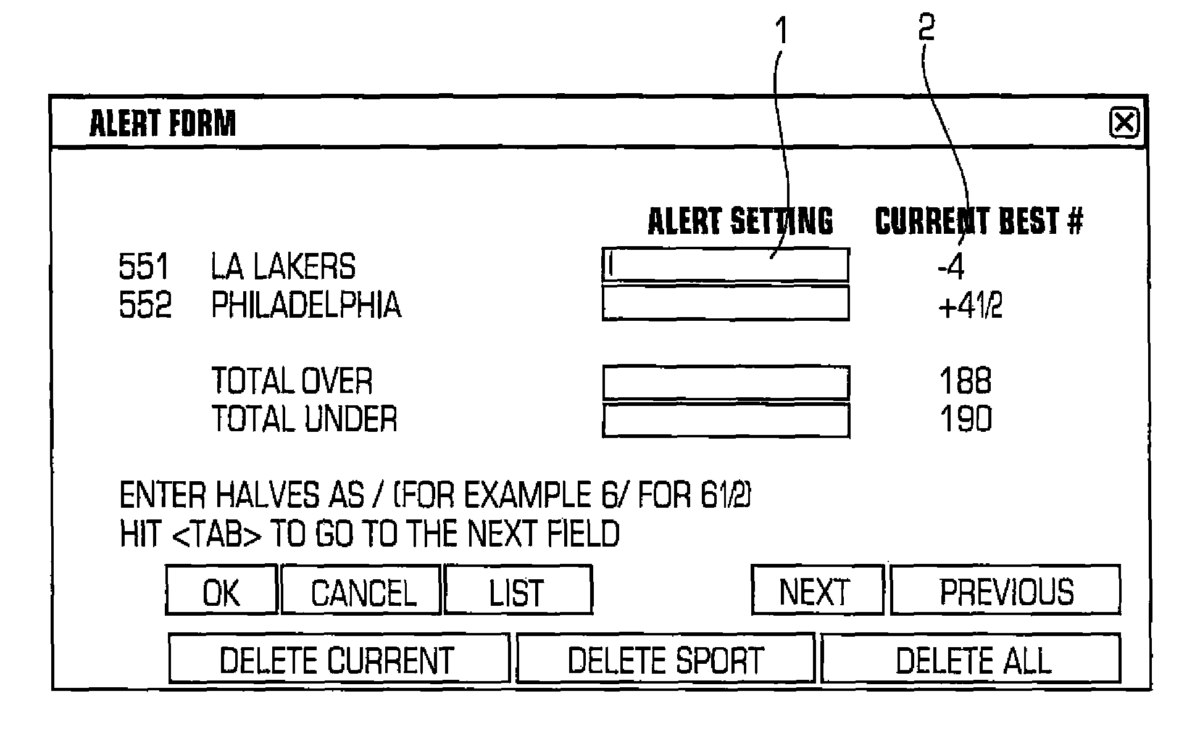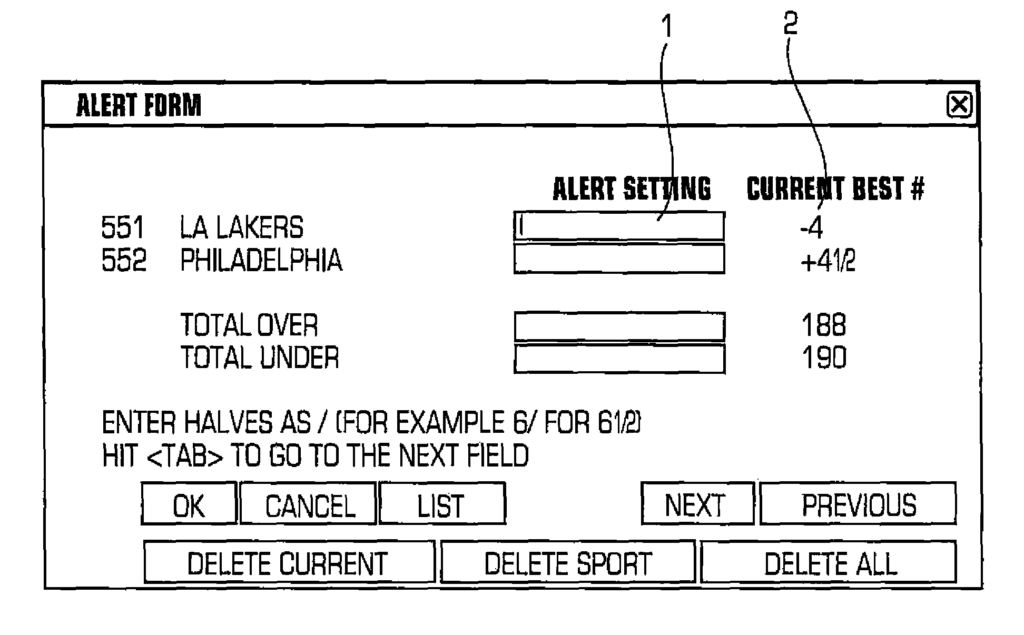 Figure 1 of Google's patent: Method and system for providing real time sports betting information US 8057300 B2
image source
When businesses that have made billions from digital offerings and social media dive into the realm of sports betting, it's a safe bet the entire landscape is set to change.
So what does all this mean for the sports betting world?

Legalization, Digitization and Information Overload.
The Emerging Technologies
We already talked about Liberatus being able to dominate a game of poker, but what about the other myriad of ways computers are entering the sports betting arena?
Sports bettors are familiar with these new apps that "attempt to predict the outcome of games and races. They accumulate years of data and trends and run them through algorithms that make, sometimes uncannily, accurate predictions.
This has already changed the way many bettors are planning out their bets – they use this data to wait until the odds are at their best before putting cash down in order to win real money instantly.
Though the bundle of apps claiming to be sports predictions may not be any more accurate than their human counterparts – the more sophisticated software is making impressive headway.
Sports will likely never be a sure thing due to the human element. But looking at predictive price management and analytic software from the ecommerce industry dealing with trends and human interactions, we can assume that all but the most unlikely of outcomes one day become predictable.
Elihu Feustel, of India, who makes huge bets on tennis matches based on a predictive computer model he built himself , says he can expect an overall 2% increase in his yearly profit. So with a hypothetical 5M in bets a year , he averages around $100,000 yearly from sports betting using his model. He watches less than one hour a year of tennis.
Betting in Real Time: Here Come the Robots
With the entrance of robots as sophisticated bettors, the actual nature of sports betting can dramatically change – from pre-event betting (as sports bets are placed today) to real-time betting during the event. This shift will be enabled by the data fed to robots in real time from:
Motion-tracking cameras located in stadiums
Microchips placed in uniforms, helmets and sports balls
Biometrics sensors in athletes' bodies
The Athlete Biometric Data (ABD) is the true game changer to watch; this is how tech companies plan to analyze something as chaotic as sport.
They believe we will begin to see ABD as a commodity sold to companies with an intent to feed that info into their algorithms, or to individuals trying to use it to place bets in a more traditional and intuitive way.
While it will be interesting for casual observers to watch their favorite athletes from a whole new perspective, there will be those who invest millions of dollars and countless hours in deciphering what it all means.
We are entering a world where a single tweet by a sports scout, or a missed step by a quarterback leaving his house, can send millions of dollars of computerized bets into motion.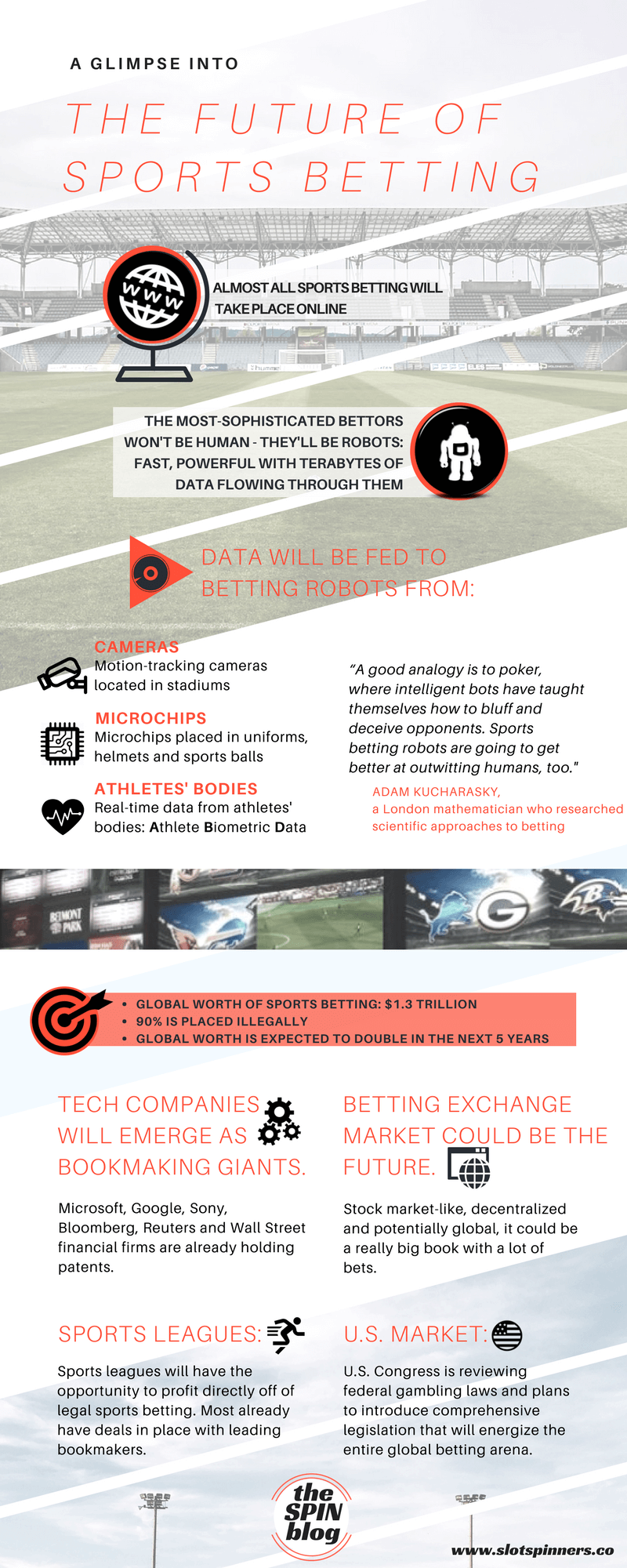 Tech Companies Are Poised to Become the New Bookies
If the type of innovation tech companies brought to other industries is any indication, the sports betting world could be in for some significant changes – down to its bones. They will compete, without mercy, against established U.S. and international sportsbook operators and likely force these operators to compete in new and unpredictable ways.
We are also likely to see stock-market-style sports betting exchanges pop up. This is what Jerry Brito, the executive director of Coin Center, a nonprofit crypto-currency research center has to say on the matter:
"It's cheaper, because the cut that the book takes is incredibly small, because there's no company there, there's no overhead, besides the network. And because it's potentially global, it could be a really big book with a lot of bets."
While predictive technology is gaining ground, it still may be many years off before the House needs worry. Plus, with tech companies coming into the booking world, who knows what new advantages or profit making techniques they will come up with. It's all in the algorithm, as the new saying goes.
Pro Sports Leagues Want You to Bet
The majority of pro leagues are in favor of online sports betting and are beginning to understand ways in which they too can profit from it.
Most have already partnered up with gambling-related firms and data companies to create opportunities for shared profit. Adam Silver, an NBA commissioner, has not minced words about his support for legalized betting or his willingness to work with companies that operate mainly through legal loopholes. One such enterprise is DraftKings, a Boston-based company that defines itself as "daily fantasy sports for cash"; a reminder – online sports betting is illegal in the U.S.
Legalizing Sports Betting in the U.S. Will Energize the Global Market
This year, 97% of the 4.5 billion betted on the Super Bowl were placed illegally. This is nothing new, as detailed in an in-depth investigation by The New York Times on how bookmaking sites operate in the U.S. under the legal radar.
The U.S. Congress has begun reviewing federal laws regarding gambling, and will likely introduce legislation in the near future relating to online sports betting. The American supreme court has delayed its ruling on the federal ban of online sports betting outside of Nevada, Delaware, Montana, and Oregon (the only States where online gambling is legal.)
Even though sports betting is widely legal around the world, a legalization bill by the U.S. congress will jolt the online sports betting universe into hyper action.
If the legalization does go through, companies like Microsoft already have a patent in place for real-time bet placing through mobile devices and online sites.
We'll end with a great quote from John Avello, a Vegas veteran and executive director of Wynn Race and Sports:
"If the stock market started today, it would probably be looked at as gambling."